Video Anthology / 1978-88 is a collection of music videos by Bruce Springsteen, originally released on VHS and Laserdisc on January 31, 1989.
It was updated and re-released as The Complete Video Anthology / 1978-2000 by Sony on DVD on January 16, 2001, adding a second disc with 15 additional music videos.
1989 Release/First 2001 Disc
Edit
Rosalita (Come Out Tonight) (Live, recorded on July 8, 1978 at Veterans Memorial Coliseum, Phoenix, Arizona as part of the Darkness Tour; band intros from original MTV version edited out)
The River (1980; from the No Nukes concert film)
Thunder Road (1980; from No Nukes)
My Hometown (from the Born in the U.S.A. Tour)
War (from the Born in the U.S.A. Tour)
Fire (acoustic performance from Neil Young's Bridge School Benefit)
Spare Parts
Born To Run (acoustic version from the Tunnel of Love Express Tour)
2001 Second Disc
Edit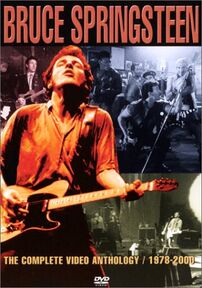 57 Channels (And Nothin' On)
Leap of Faith
Murder Incorporated
Dead Man Walkin'
The Ghost of Tom Joad (photographed by Bruce's sister, Pamela)
The Ghost of Tom Joad (The Tonight Show with Jay Leno)
If I Should Fall Behind (from The Reunion Tour)
Born in the U.S.A. (solo acoustic version from The Charlie Rose Show)
Secret Garden (string version from Blood Brothers)
Ad blocker interference detected!
Wikia is a free-to-use site that makes money from advertising. We have a modified experience for viewers using ad blockers

Wikia is not accessible if you've made further modifications. Remove the custom ad blocker rule(s) and the page will load as expected.