Released
August 1, 1988
Recorded
March 21 - July 3, 1988
Genre
Rock
Length
24:11
Label
Producer
Bruce Springsteen, Jon Landau, Chuck Plotkin
Discography
Singles from Chimes of Freedom
N/A
Chimes of Freedom is a live EP by Bruce Springsteen, released on August 1, 1988.[1] The songs on the EP were recorded in 1988 during the Tunnel of Love Express Tour. The proceeds from the album went to support the Amnesty International Human Rights Now! tour. The song "Chimes of Freedom" is a cover of a Bob Dylan song.
Track Listing
Edit
Tougher Than the Rest (Live - recorded on April 27, 1988 at L.A. Sports Arena)
Be True (Live - recorded on March 21, 1988 at The Joe Louis Arena, Detroit)
Chimes of Freedom (Live - Bob Dylan cover; recorded on July 3, 1988 in Stockholm, Sweden)
Born To Run (Live - acoustic version; recorded on April 27, 1988 at L.A. Sports Arena)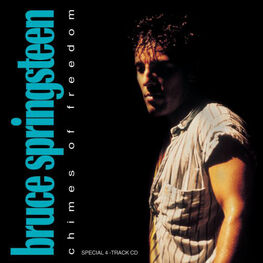 Personnel
Edit
Bruce Springsteen - lead vocals, guitar
Roy Bittan - piano, synthesizers
Clarence Clemons - saxophone, percussion
Danny Federici - organ, synthesizers
Nils Lofgren - guitar, vocals
Patti Scialfa - vocals, guitar
Garry Tallent - bass
Max Weinberg - drums
Mario Cruz - tenor saxophone
Eddie Manion - bariton saxophone
Mark Pender - trumpet
Richard Rosenberg - trombone
Michael Spengler - trumpet
References
Edit
↑ "Chimes of Freedom". Bruce Springsteen. Sony Music Entertainment, 2017. Web. 6 Mar. 2017.
Ad blocker interference detected!
Wikia is a free-to-use site that makes money from advertising. We have a modified experience for viewers using ad blockers

Wikia is not accessible if you've made further modifications. Remove the custom ad blocker rule(s) and the page will load as expected.